He looks just like this and says "Fuck". A LOT.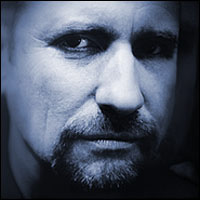 Pam and I went to see Colin Hay at the Birchmere on Monday night. Y'all may remember him as the former frontman of Men at Work; he's also been on an episode of "Scrubs" and has songs on that soundtrack as well as the
Garden Stat
e soundtrack, all excellent. I have not heard anything by him that wasn't tremendous.
I'm not very good at writing about music--you'll have to see
XO London
for that--but the thing about Colin that stops me in my tracks are his lyrics. For me this is saying something, because I'm not a big lyrics girl. I'm a medium-grade music fan; if it sounds decent, makes me want to dance, or has a catchy refrain I'm on board without needing much else. I appreciate a good story in a song but usually have to have the more deft works pointed out to me. But Colin had me at hello and his words speak to me in a way that doesn't often happen. I cannot recommend him enough; you can find tour info and mp3s
here
.
The show itself was memorable for several reasons. 1. Excellent opening act.
Schuyler Fisk
, whose name was very familiar and Pam and I placed bets on whether Schuyler was a he or a she. I had this niggling feeling that I knew Fisk from somewhere but didn't know where until the show started. A. Schuyler is a she. A beautiful she whom you may remember as Colin Hanks' girlfriend in
Orange County
. B. She is Sissy Spacek's daughter. C. SISSY SPACEK WAS THERE, ON STAGE, SINGING THE 3RD PART HARMONY. No shit. Oscar winner, farm girl, and chanteuse. Talk about getting our money's worth.
And 2. Colin brought down the house. He told many hilarious stories, all involving the F bomb. His first drop of the night: "Are there any children in the audience?" (some clapping and cheers). Hay: "That's fuckin' great!" He finished with an amazing a cappella rendition of "I Don't Know" which sounded vaguely like a Celtic folk song (fitting as he's Scottish) prompting me to break my "don't buy it at the show" rule. I shelled out for his
Going Somewhere
CD and then waited to meet him and have him sign it. Of course I just happened to mention that it had been my birthday on Saturday so I got a little extra conversation for my trouble. Shameless, table for one.
PEbs took some photos and once she gets the downloaded sorted out I'll post them. So you have that to look forward to.