CHICA-O CUBS.
The north side of Wrigley, albeit in need of repair.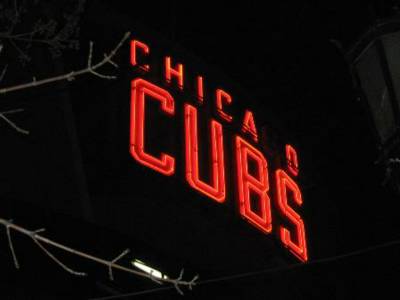 SATURDAY: Ddot had an early appointment with his realtor (ooooh!!! Who's a grown-up??! Yeah, not me, clearly) so we dragged our asses from the beds and had a huge, scrumptrellescent brunch at a place called Nookie's Tree. Hard to believe, but for several weeks I've been trying to get corned beef hash with my greasy breakfasts and have been SYTMIED. I live in the South for goodness sake, and I had to go to Chicago for the hash. The universe works in mysterious ways.
After hogging ourselves into a food coma of epic proportions, Kristin and I took the bus downtown and strolled the
Magnificent Mile
. Downtown Chicago is so gorgeous—everywhere you turn there is another unique architectural marvel—and with the sun shining and the warm temperatures it was the perfect lollygagging stroll kinda day. Eventually we stumbled into
Marshall Fields
so that I could buy a candy offering for my office (don't ask) and then, ODd on fresh air and exercise, we hopped the El home and settled in for an afternoon of napping and "
Big Lebowski
."
One of K's classmates, the terribly sweet, terribly cute Mirhiya is also terribly pregnant, and her baby shower was Saturday night. We caught the train to Evanston where I met just about every girl in Kristin's program and they are, to a woman, gorgeous, kind, gracious, funny, and smart. I injected the requisite number of F-bombs and sarcasm though, to even things out—DON'T YOU WORRY. I also added a wee Grover stuffed animal to Kristin's yummy Baby Gap gifts, but somehow managed to attach him to the front of the gift box in a manner that approximated crucifixion. Or Creed's lead singer. Klassy klass klass, that's me!!
After leaving the party we took the looong train ride back to Chicago and headed out for what we thought would be live bluegrass music. I saw the listing in Chicago's version of the City Paper, at a
place in Kristin's neighborhood
and it seemed perfect. BUT what we encountered was more sparse dive bar than anything else. And I would not have had it any other way. Neither of us spent more than about $12—no cover and cheap Old Style, and that's with a very generous tip to the bartenderess AND the band—and we were the favorite new girls on the scene. JUSTUS, the band, came up to us during each break to see if we were liking the music, if we had requests, if we were new in town, and even the other patrons were open and chatty and fully inhabiting all that was quirky about the situation. Kristin gives the best
person-by-person recap
of the oddballs we met (I swear this is the last time I'll link to her version of the weekend, but she just nails this part so well—at the bottom of her Sunday Feb.6th entry) although she doesn't give herself enough credit. I think they were overwhelmed to have TWO women under 30 who clearly had never driven a Big Rig in the bar, and as we decided over the weekend that Kristin is a Chonky (half Chinese, half honky) they knew she belonged there as much as anyone could. Day two: SWEEEEET.
SUNDAY I got up far too early to get to O'Hare at a reasonable time only to have my flight delayed for almost 2 hours. But it was delayed because the DC-Chicago flight that would turn around and become my Chicago-DC flight had mechanical trouble. IN THE AIR. And had to go back to Dulles. And I have NO PROBLEM waiting for things like that to be fixed. You send me a whole, functioning plane and we are all good. The end.