Sweet ass sweet ride. A vintage Corvette that I ogled while driving home on I-66 today. Also, notice the skies, the grey creep signaling the approach of snow!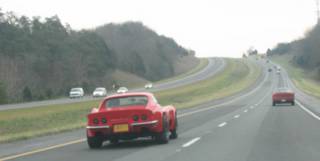 As is Blogger's way, posts stack from the bottom-up, robbing me of all flow if I have an interest in posting a chronology. Like this weekend, for instance. Friday's stories are at bottom, even though they happened first, and frankly I'm too weary at this point to futz with the time stamp and move things around. I'm also too lazy to write big descriptions of the time spent and antics pursued, and default to using pictures to do my talking. It's less cumbersome for us ALL this way. ;)
Suffice it to say that I had a lovely weekend. Among other things, I took a wee road trip and have to say: Getting out of D.C. from time to time feels really good. I feel like I slow down and breathe deeper. Plus due west you get into small-town life and I love being reminded of simpler pleasures. You meet colorful characters like Steve from White Post at
Sweet Caroline's
who tells you stories that are part truth and part fiction and you're not sure which is which but it doesn't matter, and at the end of the night he's paid the tab and taken his leave. A night of much drinking for
free
, kids. If that isn't the hallmark of a good weekend then I don't know what is.
Well, maybe this: I'm writing by the glow of the Christmas lights, basking in the smell of the cake that's baking and waiting for the snow. Now go look at the pictures.